What's Optimus?
Hikvision is excited to launch Optimus. Designed to help you utilize the full power and versatility of HikCentral, Hikvision's Central Management System (CMS), Optimus our middleware solution equipped with a Connector Software Development Kit (SDK), makes it simple for manufacturer and technology partners to integrate their products with HikCentral. Partners develop "Connectors" into Optimus and then have the ability to connect to HikCentral via the Optimus user-friendly graphical user interface (GUI). With Optimus you can develop various types of connectors, such as:
Access Control
Heating, Ventilation, Air Condition systems(HVAC)
Alarm Intrusion
Payroll Systems
More about HikCentral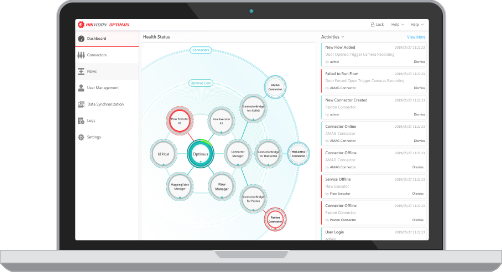 What is a connector?
An Optimus Connector is an integration between a third-party system and HikCentral. Because Optimus is code-agnostic, Connectors can be created regardless of a product's coding. A Connector can consist of triggers, events and data via the third-party system's application program interface (API). Through the Optimus Connector Program, you can join a third-party program and receive the Connector Software Development Kit.
You may also request that Hikvision develop a Connector for your project requirements.
Join our program to know how to develop a connector.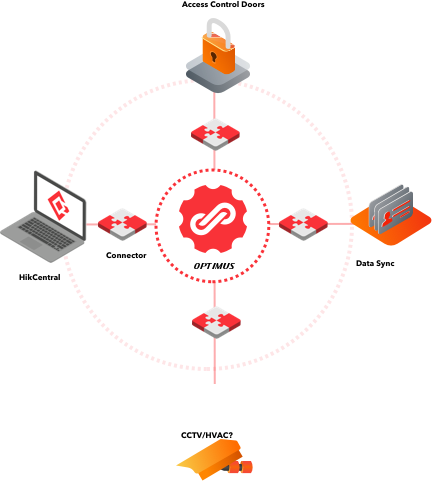 How can you get a Connector Developed?
Here are the follow methods:
Connector details
Connector Development Training Content
A Connector integrates a third-party technology into the Hikvision Optimus middleware solution for use with the HikCentral Central Management System. Optimus connects to the third-party SDK to extract events, actions, data and other resources into Optimus. Once a Connector is developed, system integrators are able to bridge to systems such as HikCentral and a third-party access control system, for example. Connector SDK training from the Hikvision R&D team is available to members of the Optimus Program.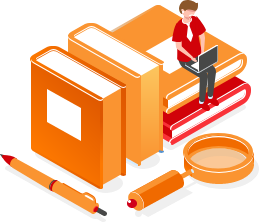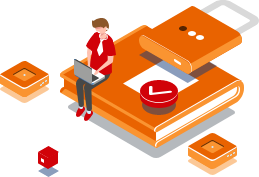 Build the Connector
Optimus Development Wi-Ki Guide
Hikvision provides partners with the Optimus Connector SDK and guide. Once you have developed your Connector in Optimus, you can submit your Connector on the Technology Partner Portal for certification. Once certified, you can manage your Connector in the Optimus Connector Program. Depending on your subscription levels, your Connector may be eligible to be marketed globally to increase your revenue stream.
Integration Guide
Hikvision R&D builds the Connector for you
Hikvision Development Team
Hikvision's R&D team is available to develop an Optimus Connector for you. We can develop a wide range of third-party integrations into Optimus Connectors, including access control, HVAC, fire panels, alarm intrusion systems, and more. Join the Optimus Connector Program, and we will be in touch to discuss project feasibility and timeline.